Symfony® Extended Depth of Focus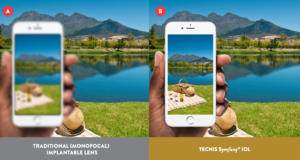 Designed to give you vivid, seamless vision, the TECNIS Symfony® Toric Extended Depth of Focus IOL addresses both presbyopia (farsightedness) and astigmatism while delivering a full range of continuous vision.
Extended Depth of Focus lenses help to improve the sharpness of vision at near, intermediate and far distances reducing the need of glasses after cataract surgery. There are two versions of the lenses, a non-toric version and a toric version for patients with astigmatism. The difference between this lens and the multifocal (MIOL) counterpart is that the extended depth of focus has one focal point, while multifocal lenses have two focal points.  A single focal point means less of a halo and glare problem.