Dr. Richard Dax Hawkins, M.D.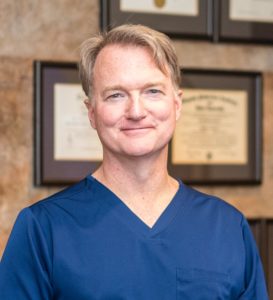 Dr. Hawkins fascination with the visual system began in earnest while attending medical school at Duke University. Regarding the eye, he says, "the ability of this small and highly complex organ to effectively capture light and transmit that information to the brain is truly amazing, yet so a part of our every waking moment that we often take it for granted. I am truly blessed to have the opportunity to help restore sight to those afflicted with diseases of the eye."
After graduating from the Duke University School of Medicine, Dr. Hawkins completed his Ophthalmology Residency at Vanderbilt University Hospital. He is a fellow of the American Academy of Ophthalmology, a member of the American Society of Cataract and Refractive Surgery and the International Society of Refractive Surgery. Dr. Hawkins has presented his research nationally on ocular blood vessel growth, LASIK surgery and the therapeutic uses of the VISX® excimer laser system. He also served as a Principal Investigator in the FDA clinical trial of the Hydrus glaucoma stent. As a member of our local medical community, he has given numerous education presentations to colleagues on eye disease and advances in surgical management. Understanding the value of education, he developed and managed a clinical rotation for UNC medical students and NHRMC interns to gain experience and insight into managing patients with complex eye conditions.
Dr. Hawkins has been providing surgical eye care in Wilmington and the surrounding communities since 2001. He has a particular expertise and experience in cataract surgery and performs up to 75 surgical procedures a week. He has a passion for providing patients with a visual outcome tailored to their individual needs by utilizing such innovative technologies as Laser-Assisted Cataract Surgery, lifestyle lenses such as the Symfony and PanOptix intraocular lenses, and Micro-Invasive Glaucoma Surgery. When your optometrist says, "It's time for cataract surgery!" … we are here to help.
As a practice, we greatly value community service. Dr. Hawkins previously served as Director and Provider of the free Brunswick Eye Clinic through the Brunswick County Health Department, serving the needs of the uninsured and others who sometimes fall through the cracks of our healthcare system. In the summer of 2019, Dr. Hawkins led a team of physicians, nurses and other volunteers for a week long medical mission trip to provide medical care to remote villages along the tributaries of the Amazon River. This was his third medical mission trip and the second time he was fortunate enough to share this fulfilling experience with his family.
Outside of medicine, Dr. Hawkins enjoys spending time with his family. He has hiked several segments of the Appalachian Trail as well as part of the Art Loeb Trail in the Shining Rock Wilderness with his two daughters, Abigale and Lily. In their free time, he and his wife, Kelly, take advantage of all that the Cape Fear community has to offer … especially, the local restaurants!