Dr. Richard Dax Hawkins, M.D.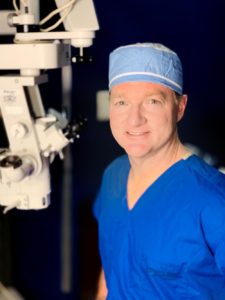 Dr. Hawkins fascination with the visual system began in earnest while attending medical school at Duke University. Regarding the eye, he says, "the ability of this small and highly complex organ to effectively capture light and transmit that information to the brain is truly amazing, yet so a part of our every waking moment we often take it for granted. I am truly blessed to have the opportunity to help restore sight to those afflicted with diseases of the eye."
After graduating from Duke University School of Medicine, Dr. Hawkins completed his Ophthalmology Residency at Vanderbilt University Hospital. He is a fellow of the American Academy of Ophthalmology, a member of the American Society of Cataract and Refractive Surgery and the International Society of Refractive Surgery. Dr. Hawkins has presented his reaserch nationally on ocular blood vessel growth, LASIK surgery and the therapeutic uses of the VISX® excimer laser system.
Dr. Hawkins has been providing surgical eye care in Wilmington and surrounding communities since 2001. He has particular expertise and experience in cataract surgery and performs up to 40 surgical procedures a week. He enjoys providing patients a visual outcome tailored to their individual needs by utilizing such innovative technologies as lifestyle lenses like the AcrySof® ReSTOR® & AcrySo®f Toric intraocular lenses. In addition to cataract surgery, Dr. Hawkins has been performing refractive surgery since 1998. He specializes in iLASIK, and is a certified provider of IntraLase® and VISX® Advanced CustomVue® technology.
Outside of medicine, Dr. Hawkins enjoys time with his wife, Kelly, and their two daughters, Abigale and Lily.